With a userbase of over 141 million players, Minecraft is known for its massive community. A majority of this community regularly meets and plays in one of the countless Minecraft online servers. While some of these servers are hosted on the players' personal systems, others have the backing of powerful third-party hosts. Thanks to that, there are plenty of Minecraft server hosting services that even you can use to take your Minecraft house and adventures online. With a detailed review of each of the Minecraft server hosting services, we are here to help you choose the best available option. However, if you don't want to go through the third-party route, you can also check out the official Minecraft Realm servers. With that in the open, let's discover the best Minecraft server hosts you can choose from in 2022.
Best Minecraft Server Hosting Services (2022)
Due to reliability issues and limited use cases, we are not focusing on the free alternatives or direct Minecraft multiplayer server providers. We will cover the hosting providers for Minecraft that you can use to build and host your server.
What to Look for When Choosing a Minecraft Server Host
Being a game that doesn't run independently online, Minecraft has comparatively lower hardware requirements than most games. We have listed the minimum requirements you must fulfill alongside the recommended requirements that you should opt for if your budget allows.
Requirements
Minimum
Recommended
RAM
1 GB
3 GB
Processor
Intel Pentium 4 2.8 GHz or
AMD Athlon XP 2600+ & better
Intel Core CPUs or
AMD K8 CPUs & better
Storage Space
2 GB
5 GB
Server Location
Reliable with Good Uptime
Same Country or Continent as Most Players
Players
1-5
15-20
These requirements are an estimate based upon the user experiences and the user data collected by the Minecraft Wiki. If you are playing with little to no mods and only with a close circle of up to 3 friends, you can go even lower than our stated minimum requirements. But if the number of players increases, make sure to increase your RAM too, as it is the first hardware to take a hit. The easiest way to make sure you have enough RAM is to allocate 200 MB of RAM for each player.
Why You Should Have Your Own Minecraft Server
Hosting your own Minecraft server can feel a little daunting, but the benefits that it brings make the cost and the efforts all worth it. Here are some of the key reasons that you should have your own Minecraft server:
Setting the Rules: You are the rule-maker of your world. quite literally. From the way the world looks, Minecraft's biomes, and the number of entities to the last power that a player can have, you can control it all.
Mods & Texture Packs: Taking the control to the next level, you can have any kind of mods and texture packs in your game. Then you can use these servers to change almost everything in Minecraft. Thanks to the large Java community, there are a ton of free Minecraft mods for you to explore. As for the Bedrock players, Minecraft Realms with monthly content might be a better call.
Creating Community: A self-controlled Minecraft server often comes with benefits, including forums, domains, and even full-fledged community websites.
Admin Control: The problem I most often face in online gaming is toxic players. Hosting your server means you can lock, punish, and even blacklist players that might disrupt your Minecraft world. For concerned parents, these servers can be locked to make sure only their kid's friends are playing on it.
24/7 Access: As we are focusing on externally hosted servers that are not on your PC, you can keep them running all the time. After covering the server costs, the service providers take care of the maintenance and electricity to ensure that you or your friends can log onto the server at any time.
Top Minecraft Server Hosting Services
Now that you are aware of what a server is capable of and what you need to look for, it's time to list down the best Minecraft server hosting services of 2022. You can also check out the pros and cons of each service to make the right choice as per your requirements.
1. Hostinger
Chances are, because of its popularity and reputation, you might have already heard about Hostinger. Among all the major general hosting providers, it is the only one with a dedicated set of servers for Minecraft. Most of the servers here are built on VPN servers with their dedicated resources and a minimum of 2 GBs of RAM. What further sweetens the deal is the amazing technical support and almost instant setup options for Minecraft.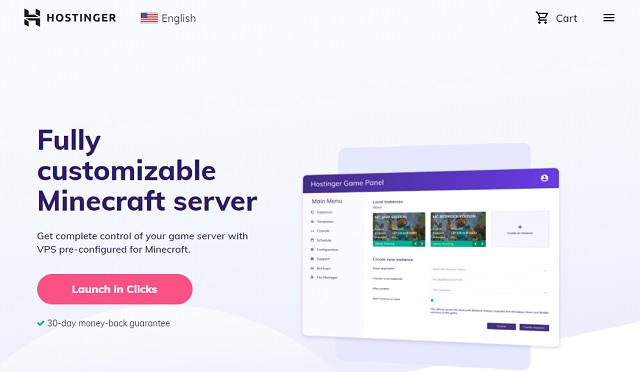 They offer multiple packages, with the cheapest plan starting at $8.95/ month and going all the way up to $77.99/ month. Even though its clean-looking control panel can feel a bit overwhelming, it's quite straightforward to get started with. Moreover, as Hostinger is already working as a website hosting provider worldwide, you get easy payment options in almost every country.
| PROS | CONS |
| --- | --- |
| 30-day money-back guarantee | Competitors have cheaper base level plans |
| Instant plan changing option | Limited number of ready to install mods and plugins |
| Changeable server hosting location | No free domains |
| 99.99% uptime and automatic backups on all servers | Only 5 server locations |
| Support for VOIP systems | |
| Variable pricing with International payment options | |
Price: starts at $8.95/ month (usually discounted to $6.95/ month)
Get Started with Hostinger
2. Apex Hosting
One popular hosting option that many players and even streamers use to set up their custom Minecraft online server is ApexHosting. Other than the regular basic servers, they also offer a ton of additional features. From automated backups, one-click modpacks, and instant setup to get your server running quickly, Apex offers it all. Their control system seems to be one of the easiest to handle, and other than the handy detailed video guides, you can also get professional support.
You can also purchase proxy plans if you want to connect multiple servers. They also provide support for other popular multiplayer games, including Rust and Valheim. When compared to other providers, the vast number of options on their control panel can make it confusing. But their constant support system and video guides are enough to let you make the most out of it.
| PROS | CONS |
| --- | --- |
| Free subdomains | Only supports 5 currencies |
| Premade Minigames | Larger plans are slightly more expensive than peers |
| 200+ ready to install mods | Only 7-day money-back guarantee |
| On-site Guides to fix errors | Slightly complex server migration process |
| Pre-made seeds for custom results | |
| 99.9% uptime with automated backups | |
| Free test servers available | |
Price: starts at $7.49/ month for 1st month; $9.99 after
Get Started with Apex Hosting
3. Shockbyte
If you are running low on the budget but don't want to compromise on quality, Shockbyte is the perfect option. Even without any major compromise on the performance, their plans start at $2.50/ month. Shockbyte claims that its competitors can't match its offerings when talking about Minecraft servers. Their packages include 100% uptime, free subdomains, cross-compatibility and more.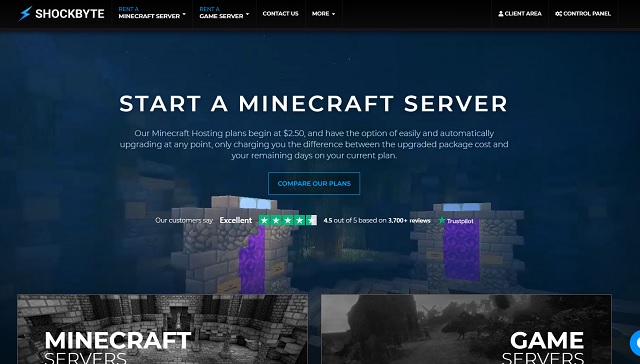 Even the most basic plan comes with 1 GB of RAM, which is enough to host a server for a group of close friends. Expanding their options of available packages, you also get an option to make your custom package based on the requirements of your server. Now, the only red flag in this seemingly perfect host is several user reviews with claims around monetary issues, putting ShockByte in a weird position. The website not only has limited currency support and a smaller refund window, but multiple users report additional fees and pricing issues on support forums.
| PROS | CONS |
| --- | --- |
| Cheaper pricing for every package than the peers | Limited currency support |
| Free subdomain; DDOS protection | Only 72-hour refund policy |
| Claimed 100% uptime & automated backups | Several users claimed additional fees & pricing issues |
| Free Buycraft and Enjin trials | |
| Quarterly, semi-annually payment options also available | |
| Offers cross-compatible servers | |
Price: starts at $2.50/ month
Get Started with ShockByte
4. Bisect Hosting
Next, we have a server provider that relies on flexibility. With plans starting from $2.99 per month and having practically dozens of more plans to choose from, Bisect offers a lot of options for Minecraft players online. You can enter your requirements in Bisect's system, and the expert AI will tell you the best-suited plan for your needs.
What makes Bisect stand out the most is how far the plans can go. While other providers cap at a maximum of 16 GBs of RAM, Bisect also offers support for 32 GBs of RAM if your server needs it. Since they offer hosting services for 11 other popular games too, including Counter-Strike and Team Fortress 2, you can expect quality response time and performance.
| PROS | CONS |
| --- | --- |
| Huge number of package options | Lack of regular backups for budget options |
| High-end packages available | Server locations are limited to premium users |
| Free sub-domain and MySQL database | Charges for modpack installation on budget options |
| Multicraft control panel | |
| | |
Price: starts at $2.99/ month
Get Started with Bisect
5. Scalacube
Following the series of affordable options, we have Scalacube. Out of all the hosts on our list, it is the only Minecraft server hosting service that also offers a free tier. Though, their usual plans start from $2.50 and go all the way up to $96. They also offer one-click installation for 1000+ mods. You also get a custom forum and a Minecraft launcher, which are a great way to make servers personal.
Scalacube also offers high-end servers with 32 GBs of RAM like Bisect. The server pricing might seem cheaper on Scalacube, but that comes with a compromise on a few essential features such as lack of instant support, no free backups, and more. However, if you just want to experience what it feels like to host a Minecraft server for free, this might be a good place to start.
| PROS | CONS |
| --- | --- |
| Free hosting options | Limited currency support |
| Get free sub-domain | No refunds |
| Custom launcher and forum support | Users have claimed lag in several reviews |
| High-end packages available | No free backups |
| Custom Guide to get started | Lack of instant support |
| Testable servers | |
Price: starts at $2.5/ month; also offers a free option
Get Started with Scalacube
6. Sparked Host | Cheapest Minecraft Server Host
For just $1.5 per month, this Minecraft server beats anything else in terms of affordability. Now, Sparked Host has many more affordable plan options, but with comparatively limited server types. The site claims to use only enterprise-level servers, enabling them to lower their costs while keeping the quality high.
You can get almost everything that the other providers have to offer but a lot cheaper. But the quality of performance, as the mixed user reviews suggest, might vary. The site also has a service recommended, which can make choosing the right server easier even with limited options. If you want to go even below $1 to try their services, they also offer a 24-hour free trial.
| PROS | CONS |
| --- | --- |
| Cheapest hosting options | No Money-back period |
| Live support system | Limited currency support |
| Subuser access | Slightly complex location change process |
| Subdomain options | |
| Cheaper high-end plans | |
Price: starts at $1.5/month; free trial available
Get Started with Sparked Host
7. Nodecraft
As the last entry on our list, we have ever-reliable Nodecraft. With support for up to 30 games, the team behind this service is experienced in multiplayer games. Other than providing affordable server options, they also have dedicated apps to help you manage the servers. Their plans start on the expensive side at $9.98/ month, but you can switch games on that same server if you want. You can also get a free trial without giving any payment information if you wish to test it out first.
Nodecraft claims that a unique advantage they have over competitors is that they never oversell their servers. It ensures that you are always getting exactly what you paid for irrespective of the active users. Even though they offer several games to host online servers for, the actual server packages on offer are limited.
| PROS | CONS |
| --- | --- |
| Multi-game support on the same server | Only 7-day money-back guarantee |
| Dedicated mobile apps | Limited currency support |
| 24/7 Online & On-Call support | Slightly overwhelming control panel |
| Backup snapshots with each plan | More expensive than most peers |
| Regular contests and offers | |
| Custom unique control panel | |
Price: starts at $9.98/month; free trial available
Get Started with NodeCraft
Start Using these Minecraft Server Hosting
That's all we have for you when talking about the best Minecraft server hosting services. If you have found what you like, you can directly jump into these services right away. But if you plan on waiting, you can instead hop into some of the best Minecraft maps and check out a few cool house ideas in Minecraft for your upcoming online server. Alternatively, you can also reach out to other server hosts already using these services via Minecraft discord channels to get a better idea. Finally, offline players that somehow made it here in search of affordable hosting options, these best Minecraft modpacks can give you an experience better than many online servers.
With that said, if you face any confusion while choosing a Minecraft server hosting service, our comment section is always open to your queries. Someone from our team will help you out in making the best decision.